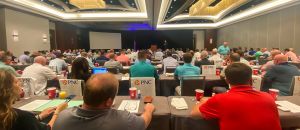 2023 GMTA Annual Convention
Matthew Caldwell
On Highway Sales - Director, Cummins
Matthew Caldwell, has over 27 years in the trucking industry, holding numerous positions in both the OEM dealer network and with Cummins Inc. Starting in early 1996 at Cummins Ohio as a sales representative, he left to join a major truck OEM as a Sales Manager/ General Manager in Columbus, Ohio. He returned to Cummins in 2001, with a newly formed Cummins Bridgeway to start as a sales representative before moving to Cummins Engine Company as a National Account Sales Representative. In 2006, he returned to Cummins Distribution at Cummins Bridgeway to lead Business Development, industrial Cummins Power Products sales and eventually start their marketing group. With the purchase of Cummins Distribution by Cummins Inc in the mid-2010's, Matthew returned to sales by relocating to Concord, NC to lead the On-Highway Sales group in the Southern Zone. 
A graduate of Bowling Green State University (Ohio) in 1989, Matthew pursued his interest in sales and marketing positions in various companies in Ohio, specifically as an Operations Manager for NEX Transport, a supplier to Honda of America. It was here that he met his future wife Marsha. Married in 1992, Marsha and Matthew have 4 children and 4 grandchildren. 
Given that his college major was Marketing Research, he has always been intrigued by data. A pioneer in the utilization of truck registration data for Cummins, he developed data tools to assist Cummins sales groups identify and measure demand throughout North America. These tools are now refined and part of the fabric of all trucking industry groups. 
Mike Collins
United States Representative, 10th Congressional District of Georgia
As the Representative for Georgia's 10th Congressional District, Mike Collins brings decades of experience as an entrepreneur, businessman, and employer to Congress. He and his wife Leigh Ann started a trucking company in the early 1990s that has grown to employ more than 100 Georgians and hauls freight all over America. Mike has also served on the board and as Chairman of one of Georgia's largest credit unions and president of his local Chamber of Commerce. That experience informs Mike's top policy priorities, which are to cut wasteful spending and take onerous regulations off the backs of small business owners so our economy can grow and hard-working Americans can thrive.
Representative Collins was born, raised and still resides in Jackson, Georgia. He graduated with a business degree from Georgia State University. He and Leigh Ann have three grown children and four grandchildren.
Representative Collins serves on the following committees and subcommittees:
House Committee on Transportation and Infrastructure
Subcommittee on Highways and Transit
Subcommittee on Aviation
Subcommittee on Water Resources and Environment
House Committee on Natural Resources
Subcommittee on Energy and Mineral Resources
Subcommittee on Oversight and Investigations (Vice Chair)
House Committee on Science, Space, and Technology
Subcommittee on Research and Technology (Chairman)
Subcommittee on Environment
Dan Cook
Principal & Practice Leader, True North Companies
Biography: Dan specializes in Risk Financing Strategies, Alternative Risk Financing Programs, M&A Due Diligence, Transportation & Logistics and Risk Mitigation Systems. Having personally invested in over a dozen companies, Dan approaches solving business problems from an owner's perspective.
Education: Dan graduated from Ferris State University with a Bachelor of Science in Finance and Insurance. Since college, he has achieved numerous professional designations and awards to include the Chartered Property & Casualty Underwriter (CPCU), Certified Insurance Counselor CIC), Certified Risk Manager (CRM), Associate in Marine Insurance Management (AMIM), Associate in Risk Management (ARM), Accredited Advisor in Insurance (AAI) and Transportation Risk Specialist (TRS) designations.
Responsibilities: Dan's responsibilities include helping clients develop risk financing strategies related to reducing cost-of-risk on a long-term, sustainable basis that aligns with their operational objectives. Dan leads the national primary transportation practice in addition to heading large project teams; his passion stems from the 'innovate' and 'build' aspects of a business, procuring development of industry-leading processes, such as the 5C's of Risk Financing™ approach.
Specialty: Over the past 20 years Dan has developed a Risk Based Due Diligence model that assigns additive or derivative value against EBIDTA. Dan leads the TrueNorth M&A Advisory Group facilitating transactions from both the buy and sell sides.
Brad Formsma
Founder, I Like Giving
Brad Formsma is the author of the best-selling book "I Like Giving: The Transforming Power of a Generous Life" and "Everyday Generosity: Becoming a Generous Family in a Selfie World." He is the Founder of I Like Giving, an organization with the mission to inspire
people to live generously. Millions of people across the globe have been impacted by the work of I Like Giving through its Generous Business, Generous Family and Generous Classroom initiatives. Brad is also the host of the leading podcast: The WOW Factor® "Words of Wisdom" from extraordinary leaders to help people grow in business and beyond.
Brad has had the opportunity to speak at businesses and conferences across the U.S. to share the message of living generously. He combines personal insights, humor, and the power of story with practical tools to help increase engagement and put generosity into practice in our everyday lives. Brad and his wife Laura live in Southern California and are the proud parents of 3 adult children.
Colin McNamara
Transportation Specialist, True North Companies
Professional Expertise: Collin co-leads the Moving and Storage practice at TrueNorth, specializing in Risk Financing Strategies, Alternative Risk Financing Programs, M&A Due Diligence, and Risk mitigation Systems for companies across the United States. 
Industry Concentration: Collin helps clients develop risk financing strategies in ways that can reduce their total cost of risk on a long-term, sustainable basis and align with their operational objectives. In addition to heading large project teams, Collin derives energy from the 'innovate' and 'build' aspects of a business, procuring development of industry-leading processes, such as TrueNorth's 5C's of Risk FinancingTM approach. 
Education: Collin graduated from the University of Iowa with a bachelor's degree in business finance. 
Admissions & Memberships: Collin is an active member American Trucking Associations (ATA) and various state motor trucking associations, including Alabama Trucking Association, Florida Trucking Association, and Georgia Motor Trucking Association.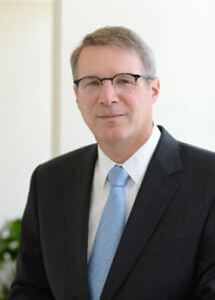 Chris Spear
President & CEO, American Trucking Associations
Chris Spear is a government relations specialist with over two decades experience on five continents, serving the transportation, energy and defense technology sectors.
Mr. Spear is President and Chief Executive Officer of the American Trucking Associations, advocating public policy on behalf of the nation's trucking industry.  He serves on the Board of Directors for the American Transportation Research Institute, Trucking Cares Foundation and the Louisa Swain Foundation.
Previously, Mr. Spear was Vice President of Government Affairs for Hyundai Motor Company, serving on the Global Automakers Executive Committee; Senior Vice President of Legislative Affairs for the American Trucking Associations; Vice President of Emerging Markets for Honeywell International, based in Bracknell, United Kingdom; and, Vice President of Honeywell Global Government Relations in Washington, DC and Brussels, Belgium, managing corporate interests in the US, Europe, Middle East, Africa, Central Asia and Latin America.
Mr. Spear served in the US federal government as Deputy Representative for the Coalition Provisional Authority in Iraq.  Prior, he was nominated by President George W. Bush and unanimously confirmed by the US Senate as Assistant Secretary of Labor for Policy.  During his appointment, he was the President's Senior Advisor to the Iraqi Ministry of Labor; Commissioner on the President's Mental Health Commission; and, Executive Committee Member of the US Architectural and Transportation Barriers Compliance Board.  Before his nomination, Mr. Spear worked as professional staff in the US Senate.
Mr. Spear is a graduate of the Honeywell Executive Development Program, a recipient of Honeywell's Premier Achievement Award and was awarded the US Department of Defense Joint Civilian Service Medal.  He holds a master's and bachelor's degree from the University of Wyoming.